Posted on November 04 2019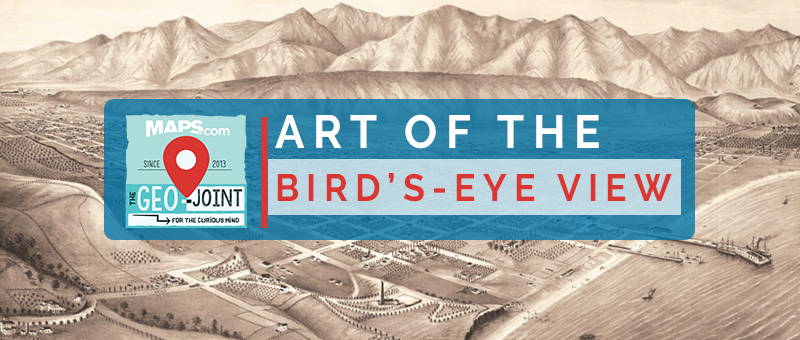 People sometimes say a map is a work of art, and there are innumerable examples of very beautiful cartography. Still, they're maps, and their technical brilliance makes them more a tool than an objet d'art. Advanced usage of shaded relief and hypsometric tinting pushes cartography closer to the definition of art, but there is a further step, one that truly links the world of maps to the world of art. This is the special province of bird's-eye-view, or perspective maps. These are often focused on large cities, showing block upon block of buildings, perhaps integrated with rivers or rolling hills or coastlines. These maps had a period of great popularity in North America between the 1840s and the 1920s. During this time, more than 1,800 such maps were produced for cities and towns in the U.S. and Canada. The production of maps displaying an oblique view was not new—Europeans began making similar ones in the late 1500s. These maps were smaller in size, though, and often produced in dimensions that could fit legibly into an atlas. The view was generally at a low angle, and while buildings were shown, street names were neither featured nor were their patterns portrayed faithfully.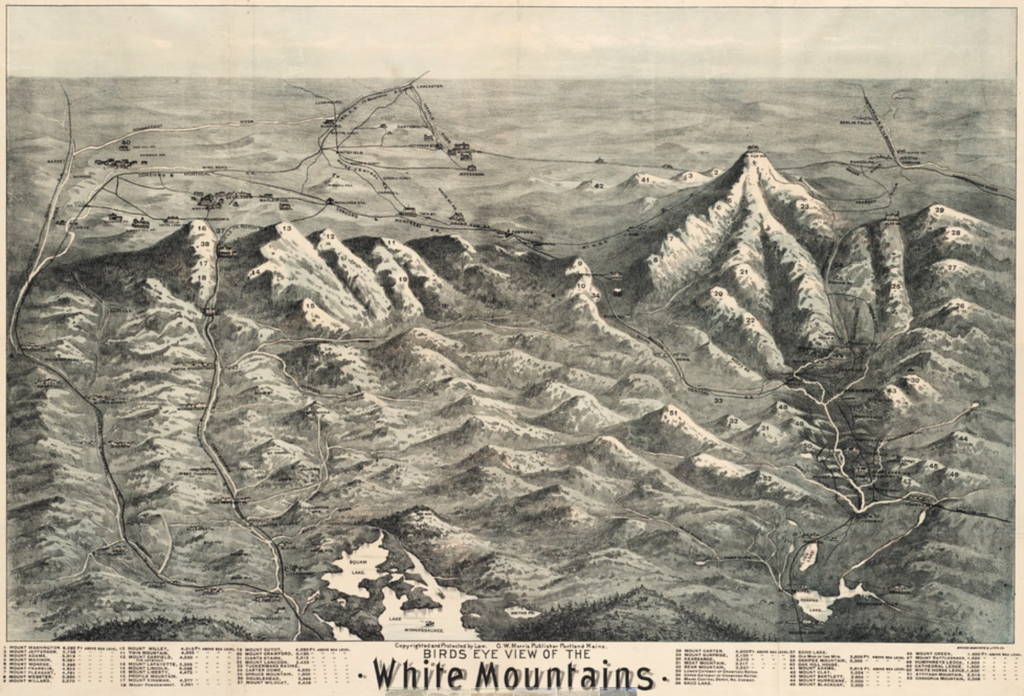 THE WHITE MOUNTAINS OF NEW HAMPSHIRE AS A HIGH-SOARING BIRD MIGHT HAVE SEEN THEM IN THE LATE 1800s.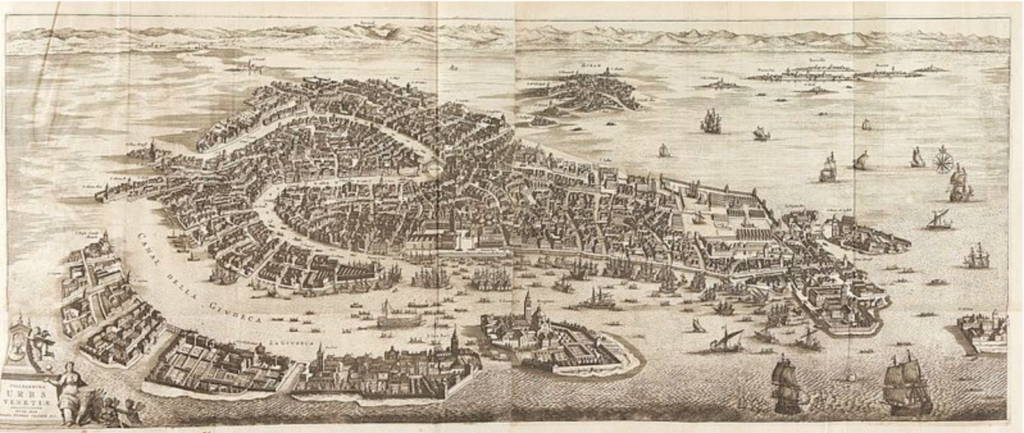 VENICE IN 1762, SEEN FROM A FAIRLY HIGH ANGLE.
Bird's-eye-view maps began gathering popularity in the U.S. before the Civil War. The angle of view was higher than that appearing in European predecessors, and their creation involved a great deal of mapping research, followed by street surveys which produced sketches of buildings and prominent trees, monuments, and other landmarks. Maps like these were most easily made in hilly country where one could achieve a vista, but air flight was still a dream, so it took a good deal of imagination to portray a flatland city as a bird might see it. People were quite fascinated by seeing their hometown from this novel perspective. Artist/cartographers saw a vast new market, and began to produce them for civic groups, governments, and business associations. They concentrated on the growing cities in the northeast region of the country, and a relative handful of artists were responsible for the majority of the maps. They were busy guys, some producing hundreds of these labor-intensive works each. Being that they were meant as tools of civic promotion, the cities were shown as operating at full steam—harbors filled with merchant ships and ferries, locomotives charging down the tracks, streets crammed with industrious people, and smokestacks enhancing the air quality with the smell of financial success. The maps were large-format (some were several feet long) and suitable for framing and hanging in businesses and homes. They were a popular decoration even into the 1920s. Some notable cities were portrayed in this bird's-eye style repeatedly over the years, and lacking aerial photography, these maps are a valuable resource today for envisioning the appearance of those cities at that early time.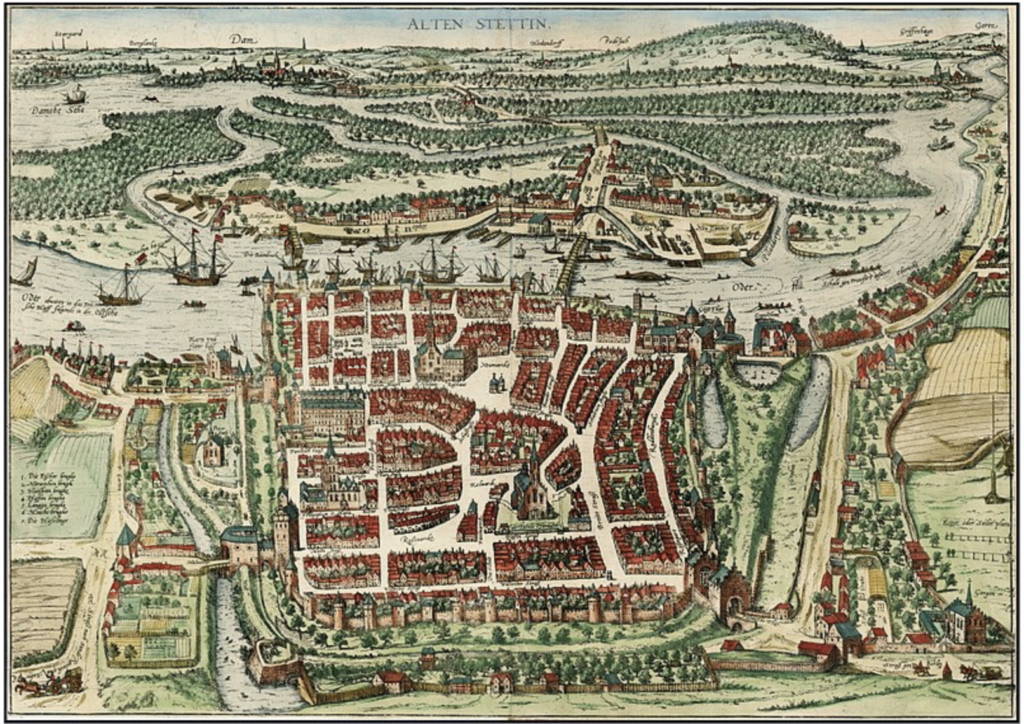 OBLIQUE VIEW OF THE POLISH CITY OF SZCZECIN, OR STETTIN, IN 1581.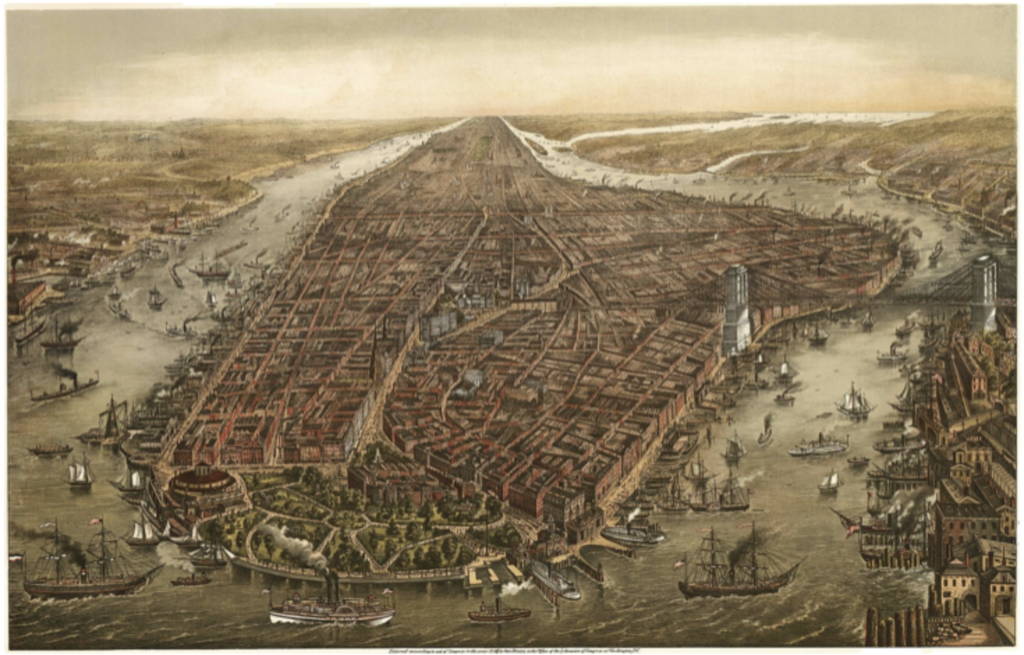 MANHATTAN IN 1870. THE HUDSON AND EAST RIVERS ARE BUSTLING WITH COMMERCE AND TRAVEL.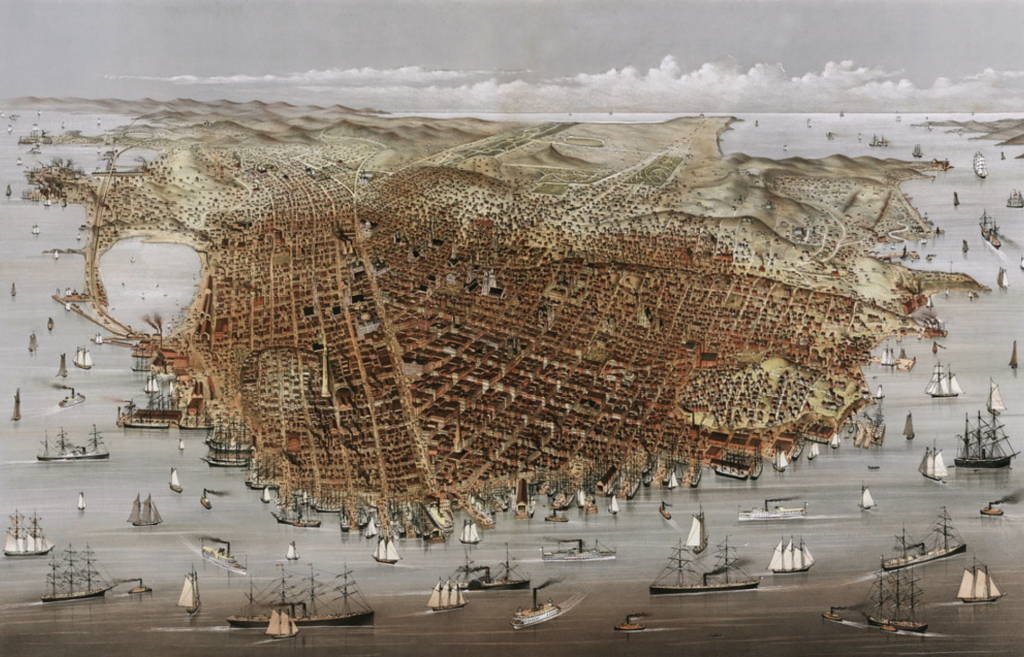 ON THE OTHER SIDE OF THE NATION, 1878 SAN FRANCISCO WAS A SIMILARLY BUSY PORT.
Advances in printing during this era lowered costs and facilitated the growth of the style. Many of the American city maps were in black and white, or muted color, so their attractiveness was in their painstaking detail. More properly seen as works of art, however, are those bird's-eye maps done to illustrate mountainous terrain. These maps begin as actual paintings, or drawn renderings of a landscape from an oblique perspective to which color is later added. Instead of simple light and dark gray shading to indicate the lay of the peaks, the actual colors of the mountains are employed, and usually enhanced, to create a dramatic view. European mapmakers have long shown off their artistic skill in depicting the Alps as they might look to a high-flying eagle, or in some depictions, a low-flying satellite. Some cover so vast a territory that the curvature of the earth is evident at the far horizon. Unlike any common mountain landscape scene that features a single peak or range, these maps take in a very big view, and are labelled with the names of peaks, valleys, and villages, showing the roads between them. They truly have a foot in both camps—as maps and as art. Given their perspective, these maps are not to scale, and there is a great deal of distortion in distances. You wouldn't want to plot a hiking trip using such a resource, but their real value is as an inspiration to exploration.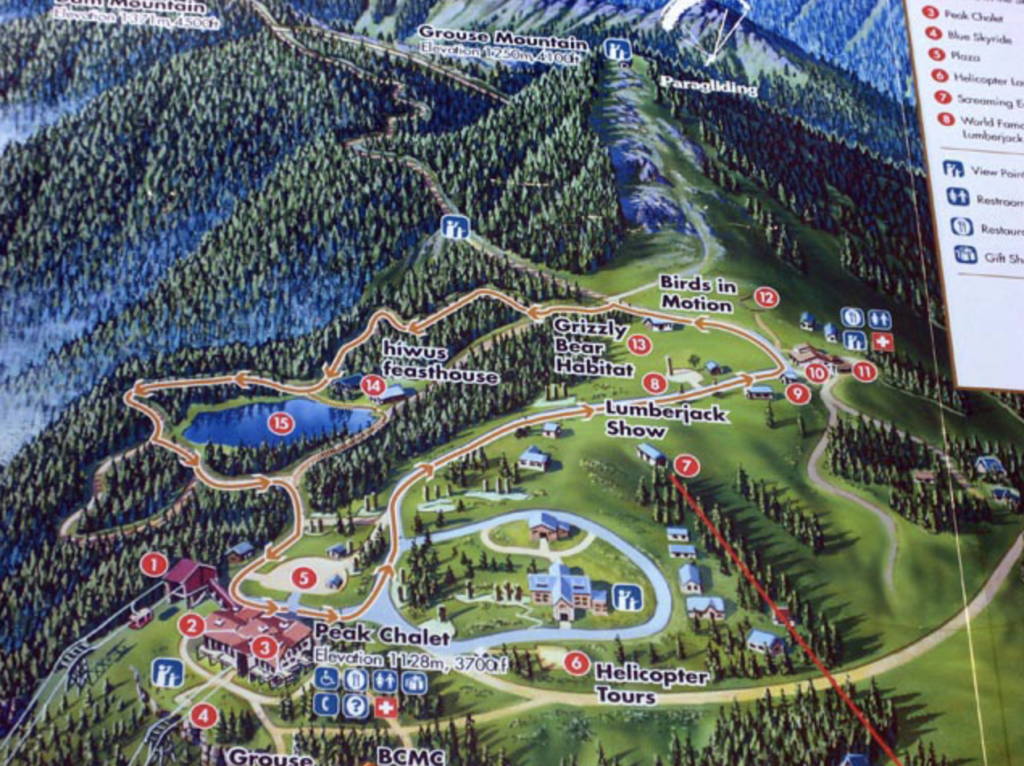 A JAMES NIEHUES SKI RESORT MAP OF GROUSE MOUNTAIN IN CANADA'S BRITISH COLUMBIA SHOWS A LITTLE OF HIS FINE-DETAIL WORK.
A particular subset of birds-eye mountain maps are maps of ski resorts. These typically illustrate broad mountain faces marked with the names of ski runs, and indicate the lifts to trails of varying difficulty. The undisputed king of such maps is an artist named James Niehues. Having produced around 200 of them for ski meccas here and abroad, his skill level is unmatched. Niehues is in his 70s now, but he's been creating trail maps to guide skiers for over 30 years. He approaches each new project methodically, beginning with aerial overflights to get a feel for the land, and to shoot numerous oblique photographs of all the mountain faces and runs. Back at his studio, he projects his favorite photographs onto a screen, and he begins to carefully sketch out the image. On this framework, he undertakes the seemingly tedious job of painting in each tree. For him, it's not tedious, as he populates entire forests with quick strokes of green which, taken together, look just like the actual mountainside. Of course he uses a lot of white paint too, evoking the heavily laden snow runs and snowy peaks far beyond the resort. Once his stunning vision of the mountainscape is complete, the factual details of names, heights, the lift lines, and other helpful information are added, making the pure art into a map resource. The process of painting alone can take him three weeks, and with all the prep work, each ski map is a three-month effort. For all his talent at depicting the favorite haunts of skiers, Niehues himself was not adept at snowy athletics at the beginning of his trail-guide map career. Years steeped in the skier's world got to him, though, and he counts himself an "intermediate" skier at this point. Given all he's done for the hundreds of ski resorts he's immortalized, he probably has carte blanche on the slopes whenever he shows up to do a little "research."
Go retro, and put this classic view of old Santa Barbara on your wall. Maps.com offers this, as well as many other antique lithograph reproductions of American city bird's-eye-view maps. Find yours!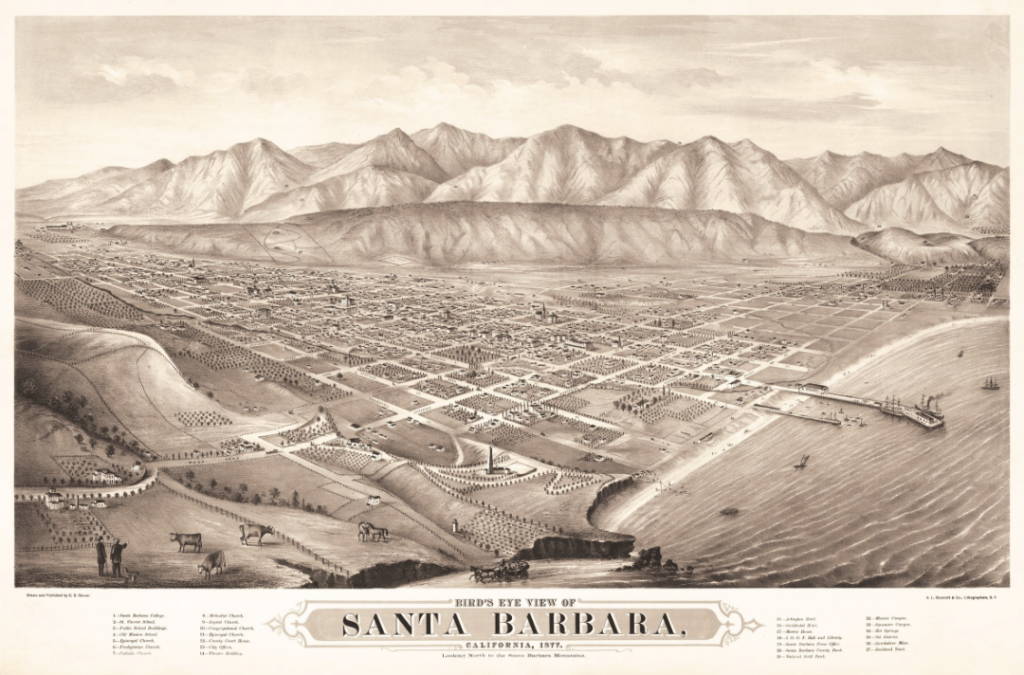 caption: Oblique view of the Polish city of Szczecin, or Stettin, in 1581.
source: Wikimedia Commons: printer Frans Hogenberg, editor Georg Braun, screenshot Ulamm (talk) (Public domain)
caption: Venice in 1762, seen from a fairly high angle.
source: Wikimedia Commons: Pieter van der Aa (Public domain)
caption: Manhattan in 1870. The Hudson and East rivers are bustling with commerce and travel.
source: Needpix: unknown (Public domain)
caption: On the other side of the nation, 1878 San Francisco was a similarly busy port.
source: Flickr: C.R. Parsons (Public domain)
caption: The White Mountains of New Hampshire as a high-soaring bird might have seen them in the late 1800s.
source: Flickr: G.W. Morris (Public domain)
caption: A James Niehues ski resort map of Grouse Mountain in Canada's British Columbia shows a little of his fine-detail work.
source: Flickr: kimba Howard (CC by 2.0)