Posted on November 05 2019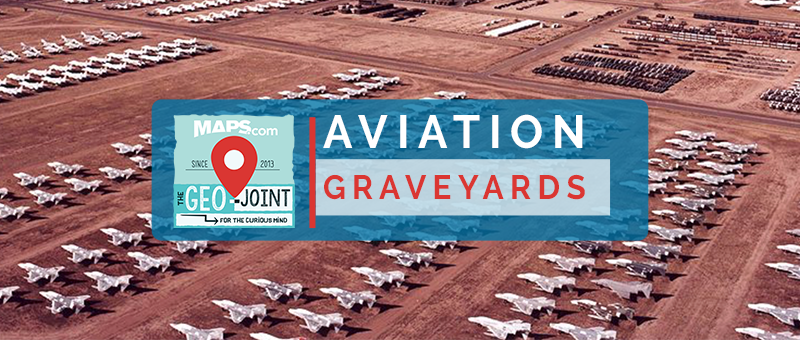 When a car gets into a bad collision or simply wears itself out, the last stop is the junkyard. Every auto has at least a few pieces that can be used to further the life of similar models in need of a replacement part. Other means of transportation also reach the end of their useful life and head for the recycle bin, notably aircraft. The population of flying things has a different demographic than autos. Nearly everybody has a car, and probably just one. Airplanes, on the other hand, are owned in large numbers by airlines, or in the case of the military, by the government. Airlines need a steady supply of jets, their fleets growing or shrinking as the demand of travellers swells or diminishes due to economic conditions. The military, on the other hand, has a massive number of planes on hand, and in the event of a major conflict needs production to spike for increased operations and to replace planes lost or damaged in combat. At the end of a conflict, the fighting forces find themselves with a surplus of these large metal objects, and they've got to go somewhere.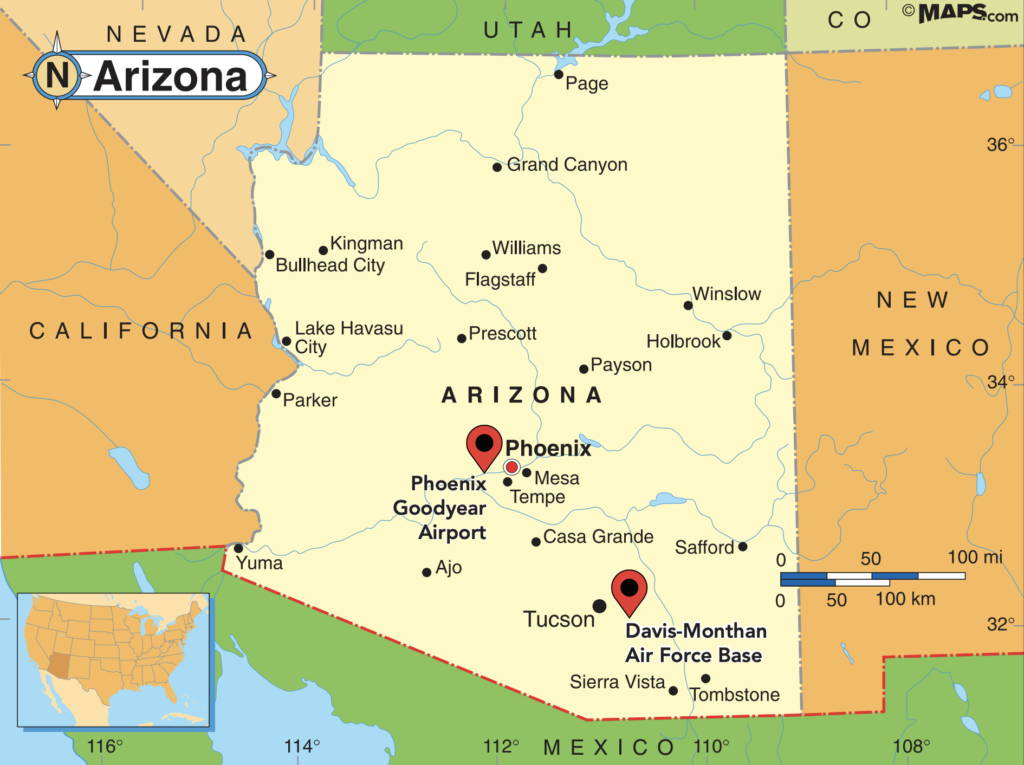 ARIZONA'S TWO BIG REPOSITORIES OF OLD AIRCRAFT, BOTH MILITARY AND COMMERCIAL.
In World War I, the fleet of aircraft devoted to fighting from the sky was limited. Certainly it was not enough to require massive storage at the war's end. But aviation made enormous advances in the decades leading up to World War II, and by the time the U.S. waded into that awful conflict, a vast fleet of warplanes was at the ready. To augment that flying force and replace the fallen craft, Rosie the Riveter cranked out hundreds of thousands more. By the time things calmed down in 1945, there were enormous numbers of planes that were no longer needed. The best place to store large, old machinery of any kind is a place where it doesn't rain a lot, and the average humidity is low. This slows down the advance of rust and other corrosion, which are the bane of outdoor storage. Parking a lot of airplanes also calls for a lot of flat space, so the driest, flattest place available was Naval Air Station Litchfield Park, near Phoenix, AZ. Yes, the US Navy has installations far from the coast. The base there had been a key part of the war effort, building and modifying planes. Post-war, it became attractive as a storage yard both for aircraft that were no longer usable, and to mothball planes that could still be called up in the event of a conflict. About 2,000 of these were stored at NAS Litchfield Park by the time of the Korean War, and most were brought back to service for the fighting in that conflict.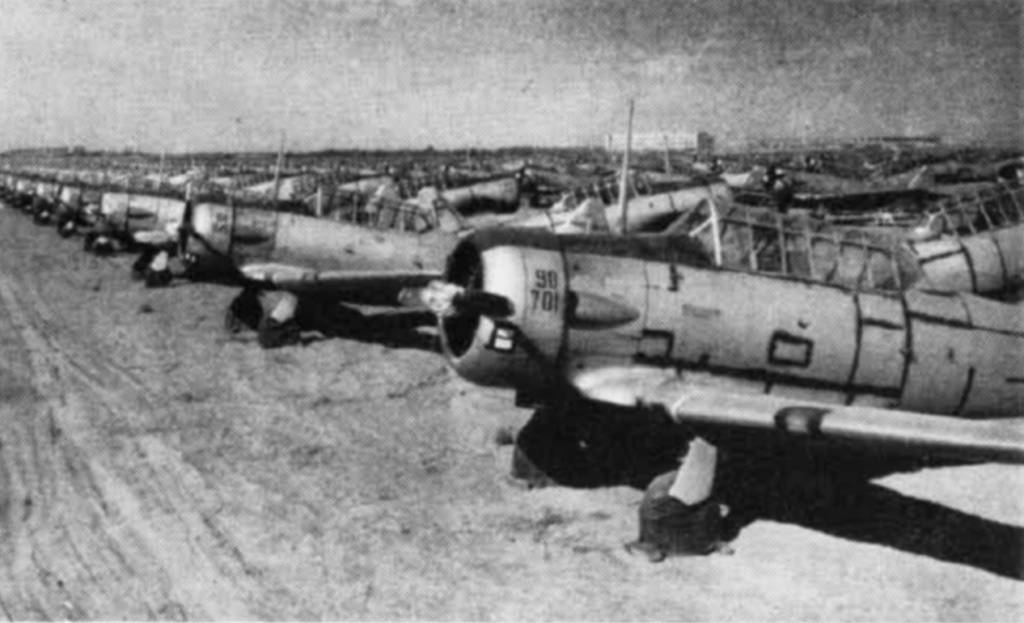 WORLD WAR II PLANES NEATLY STORED AT NAVAL AIR STATION LITCHFIELD PARK IN 1948.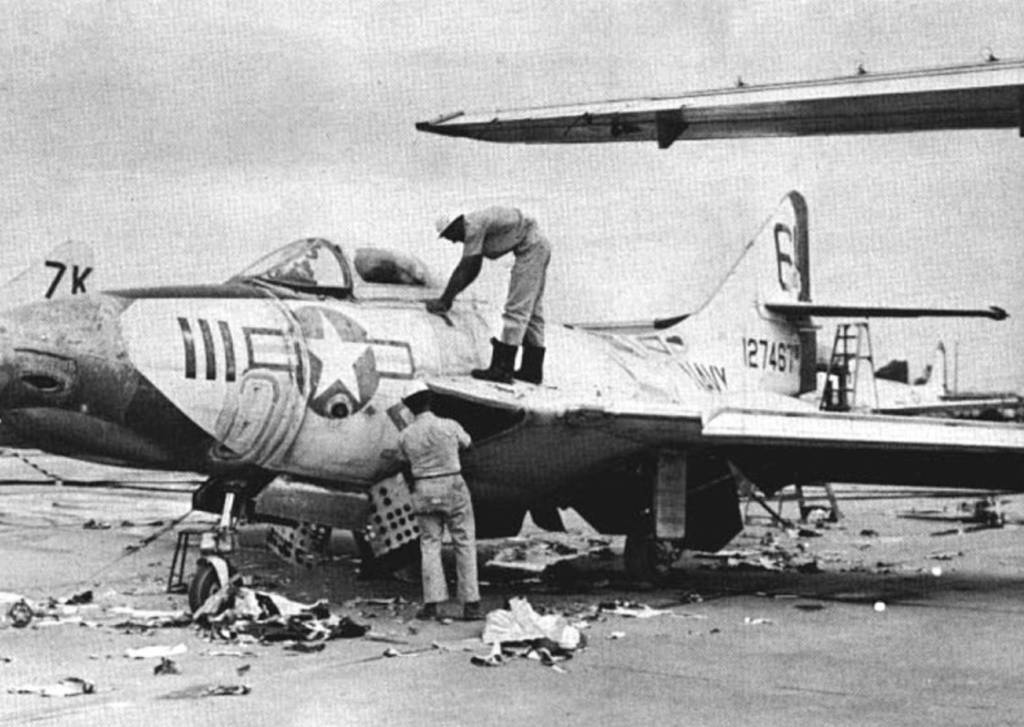 A JET AT LITCHFIELD PARK IS REACTIVATED AROUND 1963, PROBABLY TO BE USED AS A TARGET DRONE.
When the Korean debacle reached its inconclusive end, even more aircraft needed storage. NAS Litchfield Park grew in importance as the largest such facility in Arizona in the early 1960s. At its height, over 5,000 planes were on site. That all changed when the Air Force assumed the role of storage and preservation of planes, and operations moved about 140 miles southeast to Davis-Monthan Air Force Base in Tucson. Many flew the distance, but 115 useful planes were trucked down the highway. The rest were scrapped. Davis-Monthan AFB had already been one of the major recipients of surplus aircraft after WWII, and since those early days it grew to be the largest such collecting point for old aircraft in the world. As the depository for the Air Force, Navy, Marine Corps, Coast Guard, NASA, and other government services, "The Boneyard," as it is known, now houses well over 4,000 defunct or stored airplanes, neatly aligned on acres and acres of desert floor. Pictures of the place are amazing—it resembles a used-car lot that goes on forever.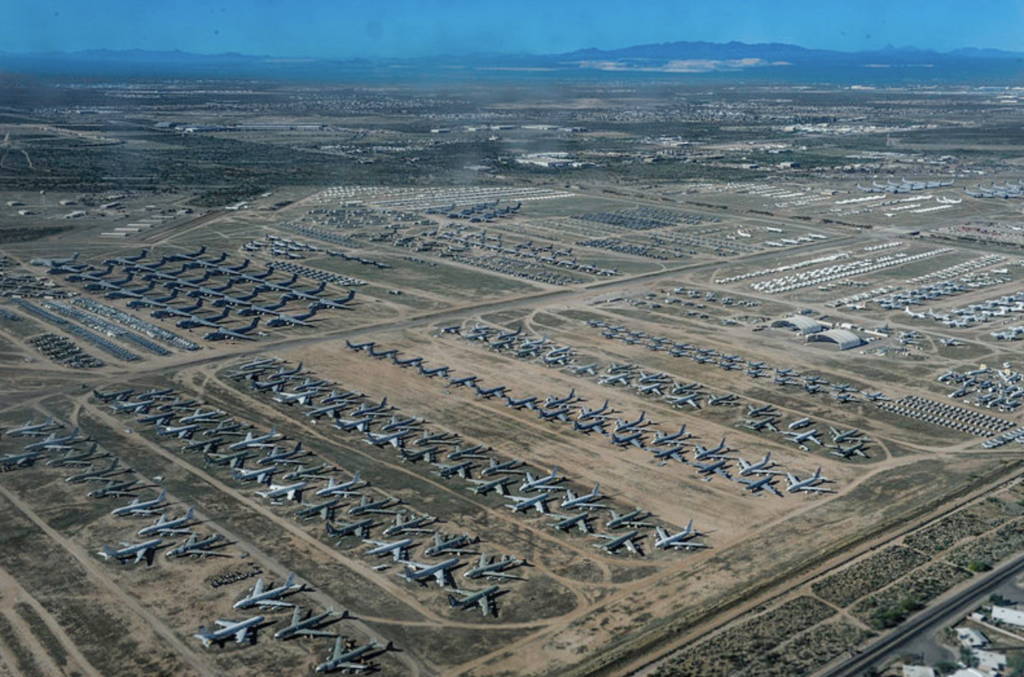 THE STORAGE OF OLD WARPLANES AT DAVIS-MONTHAN AFB IS MASSIVE.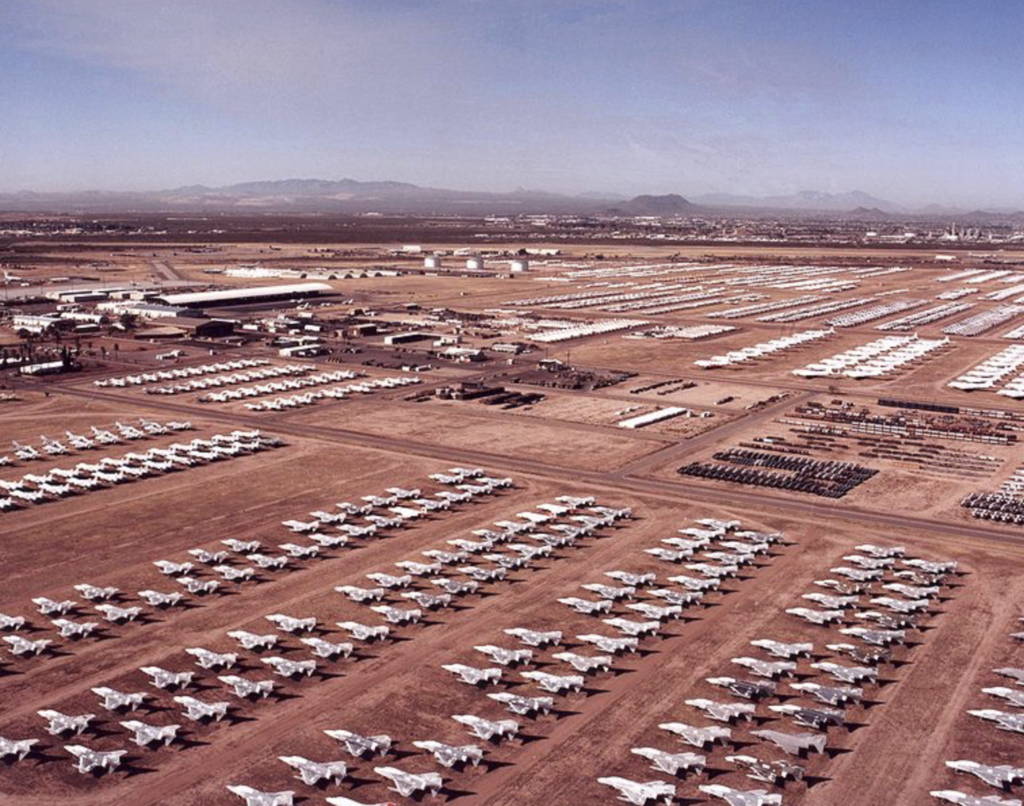 DAVIS-MONTHAN'S DRY ARIZONA DESERT LOCATION PROVIDES THE BEST CONDITIONS FOR LONG-TERM AVIATION STORAGE.
When planes are stored for future use, they are prepped for life on the shelf by the removal of guns and classified hardware, they are washed off to remove any salty deposits, fuel tanks are drained and internally coated with light oil to prevent corrosion, and their exteriors are sealed with a vinyl coating for protection from dust and the harsh sun. Planes so cared for appear to be in waiting, which they are, but others lie about, cut up into pieces as they are parted out for the needs of military aircraft mechanics. It's well worth the effort—in 2012, $472 million worth of parts were reclaimed. Once the last of the usable parts have been stripped out, the valuable aluminum and other scrap is hauled away to nearby smelters to be made into other things, perhaps even another airplane. The place is such a fascinating and unusual sight that tours are offered for those who want to witness row upon row of massive bombers and tired old fighter jets, as well as the planes-in-waiting. It being a military base, security clearances must be obtained, and nobody is allowed off the bus, but for fans of old aircraft, it is a rare opportunity.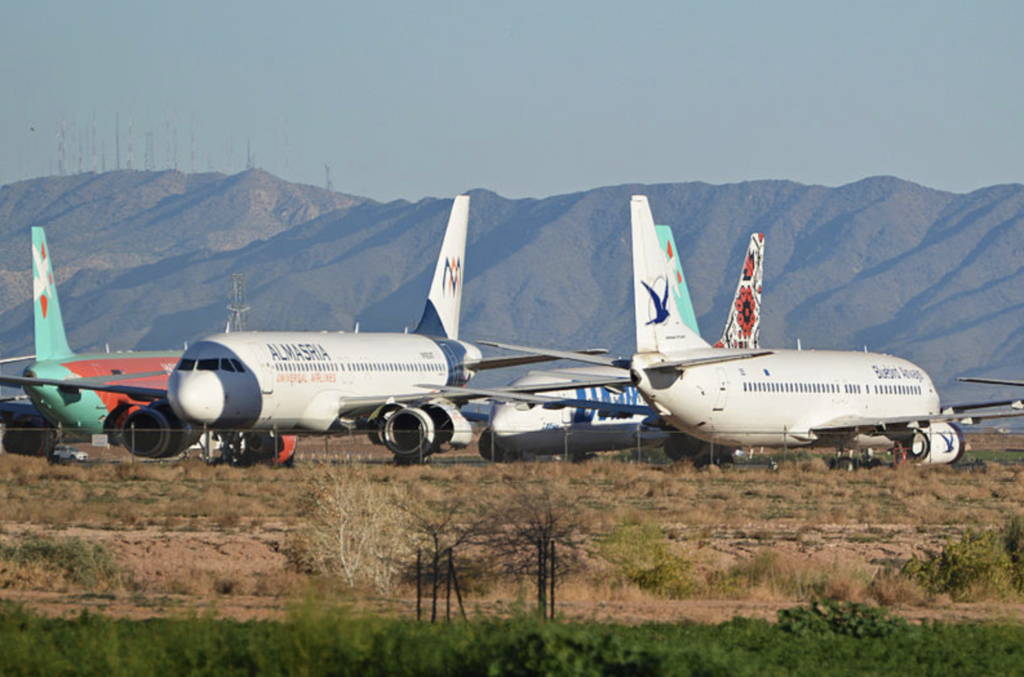 NAS LITCHFIELD PARK IS NOW PHOENIX GOODYEAR AIRPORT AND STILL STORES PLANES, BUT NOW THEY'RE COMMERCIAL AIRLINERS.
So whatever happened to NAS Litchfield Park after it lost its hoard of old military planes to Davis-Monthan AFB? The military operations there were closed down, but the City of Phoenix bought the land and converted it to civilian use as the Phoenix Goodyear Airport (GYR), a reliever facility that handles airline traffic when the nearby Phoenix Sky Harbor Airport becomes congested. It is also available for use by private planes and has facilities for pilot training. And though the fightin' flyers no longer end their careers there, Goodyear Airport now takes in retired commercial jets for refurbishment or dismantling, continuing its legacy as an aircraft boneyard.
Get in the car and go see the great aviation graveyards of Arizona, and let the Benchmark Road and Recreation Atlas be your guide! Available from Maps.com.
---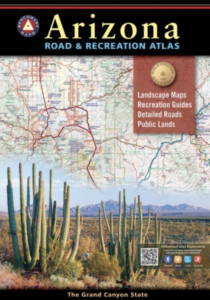 PHOTO CREDITS:
caption: World War II planes neatly stored at Naval Air Station Litchfield Park in 1948.
source: Wikimedia Commons: USN (Public domain)
caption: A jet at Litchfield Park is reactivated around 1963, probably to be used as a target drone.
source: Wikimedia Commons: U.S. Department of Defense (Public domain)
caption: NAS Litchfield Park is now Phoenix Goodyear Airport and still stores planes, but now they're commercial airliners.
source: Wikimedia Commons: Alan Wilson (CC by SA 2.0)
caption: The storage of old warplanes at Davis-Monthan AFB is massive.
source: Wikimedia Commons: US Navy Mass Communications Specialist 3rd Class Amber Porter (Public domain)
caption: Davis-Monthan's dry Arizona desert location provides the best conditions for long-term aviation storage.
source: Wikimedia Commons: Unknown (Public domain)
caption: Some planes may see service again, but some are headed for scrap, or are perhaps rare enough to get selected for museum restoration.
source: Flickr: Alan Wilson (CC by SA 2.0)