Posted on December 17 2019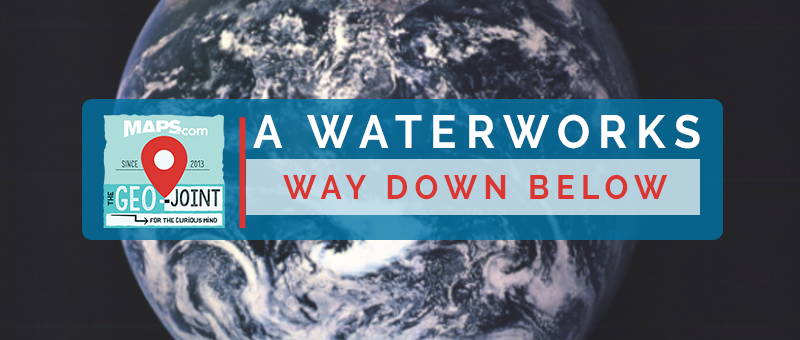 Everywhere you go in the solar system, they call Earth the water planet. We're famous for it. Oceans cover about three-quarters of the surface, and they're pretty deep. Of course there is a store of freshwater on the land itself too, and aquifers beneath it holding an additional component of the Earth's total. Some scientists are now theorizing that way down deep there may be water on an ocean-sized scale—maybe multiple volumes of it. This isn't water we can ever tap for our needs up here on the surface, but there is an awful lot of rock under our feet, and plenty of room to store such enormous quantities of water. The place this water may live is not in the thin outer crust that we tread around on, nor even in the upper mantle, which ranges from about 60 to 150 miles down below. The "wet spot" is the transition zone between the upper and lower mantle. This layer is about 150 miles thick, from 250 to 400 miles down and could conceivably hold three or four times the water volume of all the oceans on the planet.
How in the world do scientists know, or imagine, that there is so much water down there? The upper mantle is largely composed of olivine, a fairly dry mineral. As pressure and temperature increase into the transition zone, olivine is transformed into a mineral called wadsleyite. Wadsleyite's crystal structure has gaps in it that are handy for hydrogen atoms to fill, and these hydrogen atoms have an affinity for the oxygen atoms already there. The hydroxide atoms formed are a component of water. Farther down in the transition zone, under even more hellish conditions, wadsleyite turns to ringwoodite. Doing experimentation on simulated samples of these two minerals, it was determined that they could hold one to three percent of their weight in water. Considering the volume of a 150-mile-thick layer of Earth, about 7 percent of the planet's total material, that comes to one heck of a lot of water. It's not found as a giant pool, of course, but as a widely dispersed mass of hot, hydrated minerals.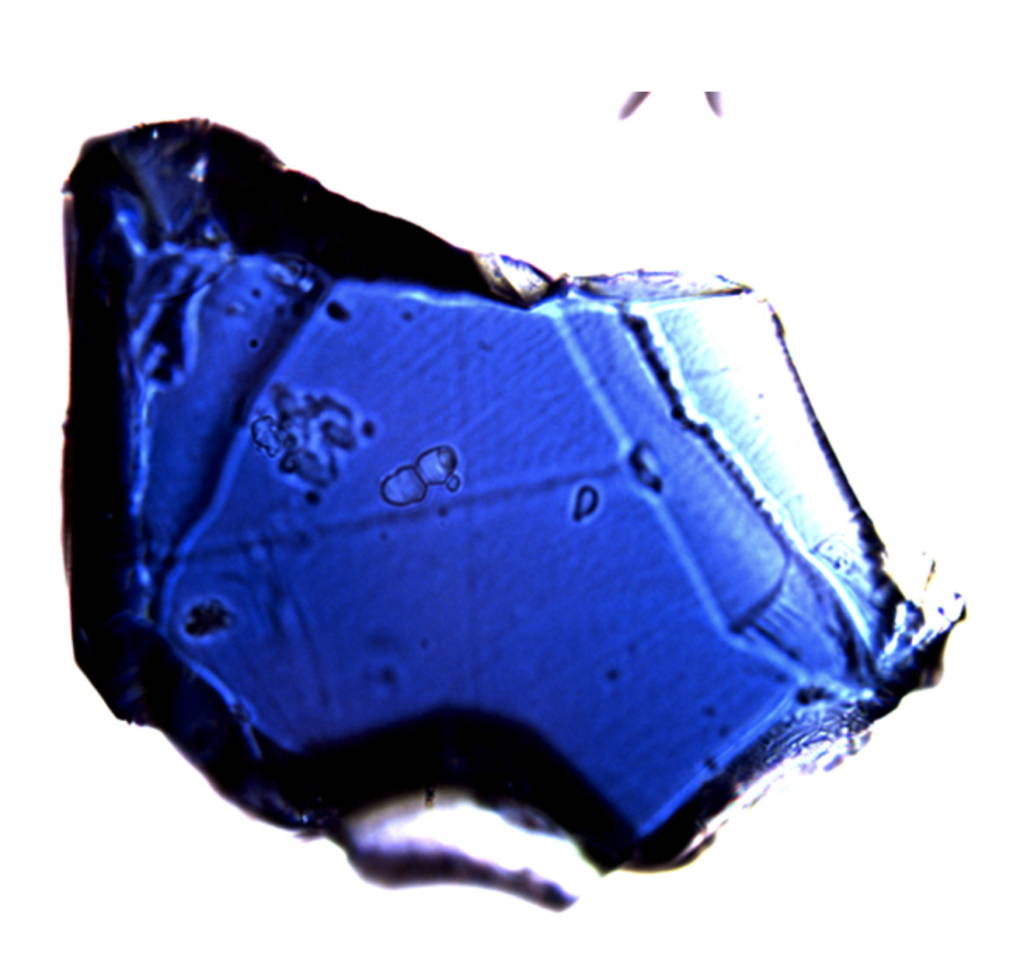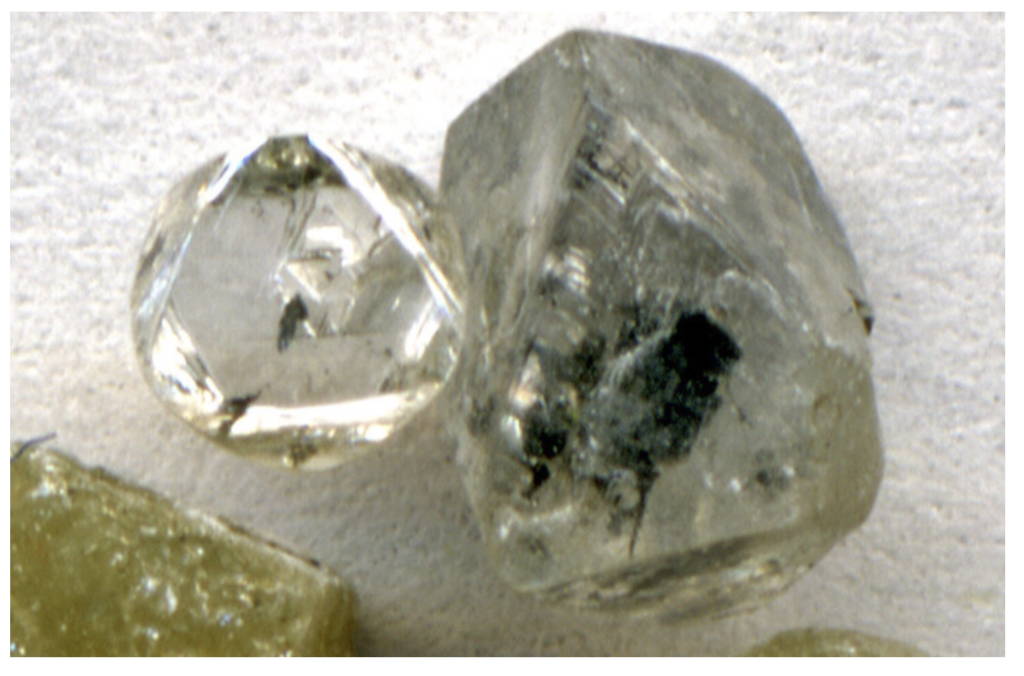 Ringwoodite had only been seen in meteorites and synthesized in labs until a recent discovery. Clues to what goes on far into the planet's interior have come by way of conduits that carry magma to the surface—magma that contains tiny diamonds. Extensive fissures that reach down to the stable parts of the mantle under continents where diamonds can form, provide what are called "diamond pipes." Magma rising from such depths and pressure flows in these pipes and explodes at the surface, leaving a crater and deposits of little diamonds. Many are low-grade specimens, bearing inclusions and tinted various colors. Some of the inclusions, bits of impurities that can become entrapped inside a growing diamond, have been found to be ringwoodite in a watered, or hydrous, form. None of this proves that there is such a mass of water molecules below the surface, but it opens the possibility. When hydrous ringwoodite moves deeper into the transition zone as it rides a convection cell downward, it melts and releases the water. Studies of seismic waves as they pass through this zone show that they slow, a signature of liquid content. This is magma far below the 50-mile-deep layer where it might be expected. Some diamond samples have also been found to contain a form of water called ice-VII, further suggesting a store of wetness at great depth.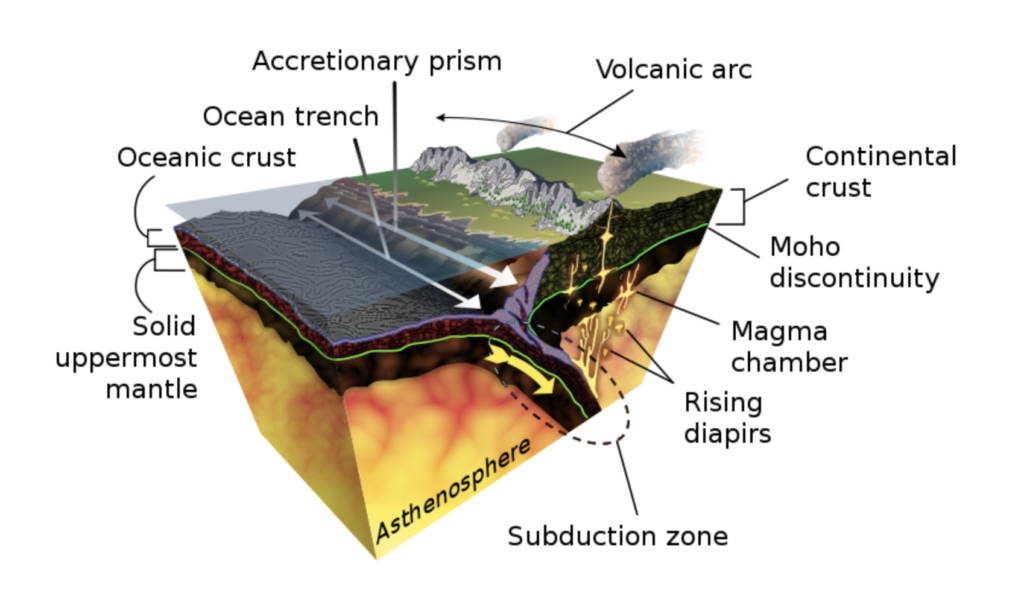 WATER-RICH OCEANIC LAYERS SUBDUCT AND CARRY THEIR WET LOAD DEEP INTO THE EARTH. WATER RETURNS TO THE SURFACE THROUGH VOLCANIC GASES, COMPLETING THE THEORIZED CYCLE.
What this evidence of deep water may signal is a planetary water cycle, which "begins" with the subduction of water-rich ocean sediments down into the Earth's interior. Far below, these vast stores of water may facilitate melting in regions deeper than the usual zone of liquified rock. Eruptions then carry water in gases back to the surface. Water may have been an integral partner of the dust that coalesced to form the Earth originally. That is, water became part of the actual structure of the planet as it formed, rather than arriving later by way of asteroids and comets and merely accumulating on the surface. As the planet evolved, a cyclical system may have developed that pushes water to the surface by volcanism and then back down below by the subduction of wet ocean plate material, over and over. The concept of multi-ocean-sized volumes of water contained within the Earth is not an idea that will ever be proved by eyewitness accounts. The clues, though, are mounting up, from the confirmation of a possibility, to the collection of remote and persuasive evidence.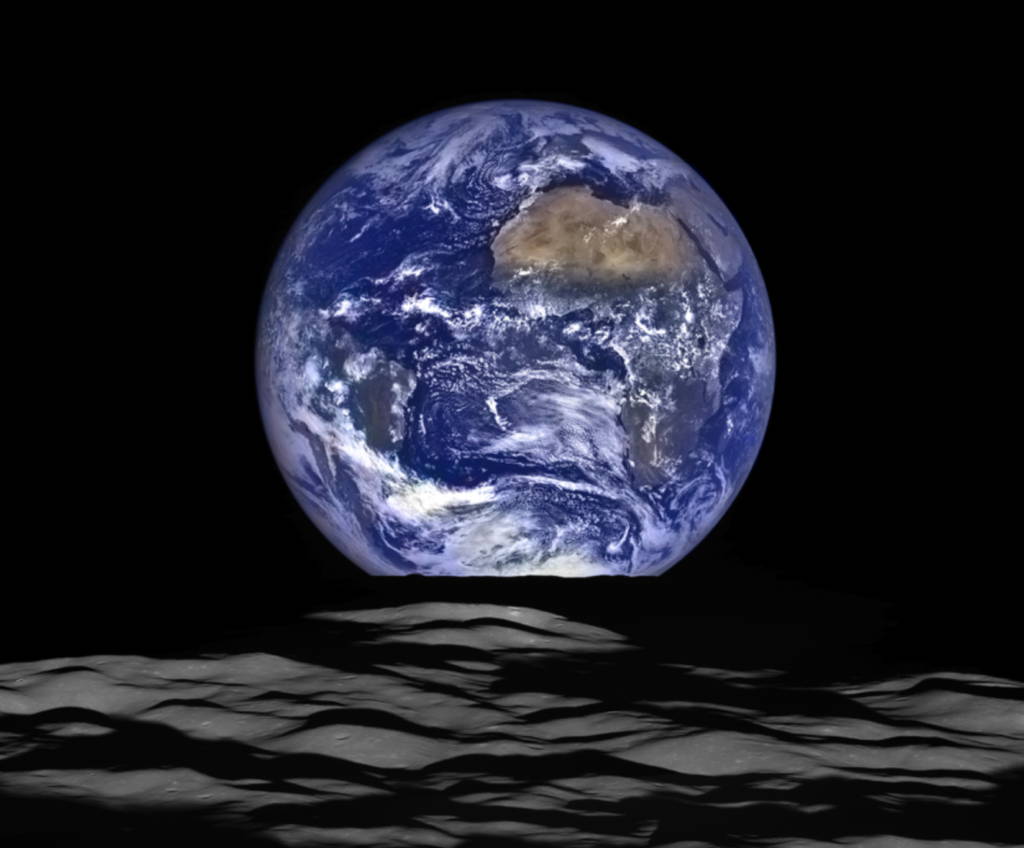 All this talk about the water planet got you wanting to see the big picture on your wall? This iconic shot from Apollo 17 will make you think about that magic substance that gives Earth its life. Order a copy of this poster from Maps.com.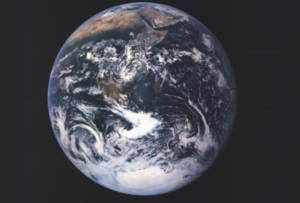 ---
PHOTO CREDITS:
caption: Awful lot of water down there. Maybe more than we thought.
source: www.goodfreephotos.com: pingnews.com (Public domain)
caption: Ringwoodite—color is a variable quality of minerals, but this blueness is evocative of its capacity to carry water.
source: Wikimedia Commons: Jasperox (CC by 3.0 Unported)
caption: Small diamonds from deep inside the Earth can have inclusions that reveal secrets about how much water could be down there.
source: Flickr: James St. John (CC by 2.0)
caption: Water-rich oceanic layers subduct and carry their wet load deep into the Earth. Water returns to the surface through volcanic gases, completing the theorized cycle.
source: Wikimedia Commons: K. D. Schroeder (CC by SA 4.0)
caption: If the theories are right, our beautiful blueness is more than skin deep.
source: NASA: NASA/Goddard/Arizona State University (Public domain)