Posted on February 11 2021
Colorful vistas abound in the world. Tourists and locals create a headache of traffic trying to reach the broad orange swaths of California poppies in the springtimes that follow rainy winters. Mountaintop vistas often provide square miles of rolling green forest, and who can turn away from a garishly brilliant sunset? We love color, and nature provides. Usually, as with the flower fields and vast stands of timber, it is living things that enrich the landscape. Sometimes, though, the good Earth alone is all that is needed to make a color statement that can draw a crowd. Iron is the main contributor to the attractiveness of dirt and rock. The redrock country of the Southwest is a good example. Multiple national parks in Arizona, Utah, Colorado, and New Mexico have rusty-toned vistas that draw visitors from around the world. Varying quantities of iron content deposited over time make for stripes of red and pinkish rock in the thick sedimentary layers of arid towers and canyon walls.
Iron doesn't always show itself as red, however. Depending upon the level of the water table at the time of soil formation, iron may undergo oxidation under aerobic or anaerobic conditions. Resulting soils may run from shades of yellow to the more common red, and in combination with manganese it may show as green or blue. Many other elements and minerals can come into play as an ocean floor or a lake bed collects thousands or millions of years of sediment. White and very light brown layers will result from the deposition of gypsum and other salts laid down when large water bodies evaporate. Calcite and dolomite also make for white layers. The many colors of soil, formed from the weathering of rock, are measured and recorded using the Munsell System of Color Notation, which rates soil color by hue (a particular color), value (its lightness or darkness), and chroma (the intensity of the color). Like paint sample charts at the hardware store, soil samples are compared to blocks of color to match them for standardized color definition, which aids in soil type identification. The rock that eventually forms from soil as it is buried deeply under subsequent deposits reflects those colors, often most strikingly in soft, easily weathered mudstone and siltstone hills. The complex histories of geologic bedding make for very complicated chemical interactions. The timing of inundation, heating, pressure, and mixing produces a broad range of textures and colors. Tracing the story of each locale is geologic detective work that enhances the unique value of these landscapes.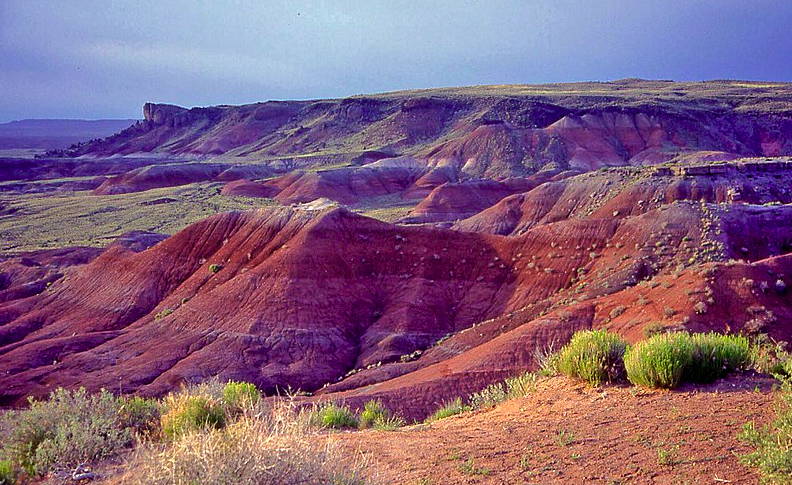 The Painted Desert is rich in reds.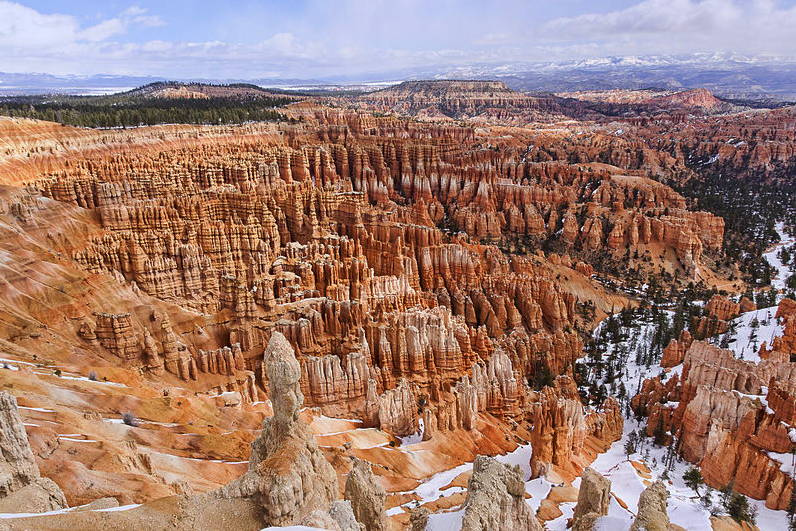 Bryce Canyon's fast-eroding limestone, siltstone, dolomite and mudstone leave otherworldly shapes as they wash away.
The Painted Hills in John Day Fossil Beds National Monument are a rusty red layer cake.
The Painted Desert and Petrified Forest of Arizona, Bryce Canyon in Utah, the Painted Hills of Oregon's John Day Fossil Beds National Monument, and parts of the Badlands of South Dakota are prime examples of nature's color palette in our fair nation, but there are such landscapes worldwide wherever the depositional and erosional conditions were right. Perhaps one of the most striking of all is the Zhangye Danxia National Geologic Park in China's Gansu province. A variety of depositional environments, from river deposits to seafloor sediments, have provided a wide range of hues, all tilted at an angle through tectonic uplift. The colors there are quite striking, and while many an Instagrammer has punched up the color of their travel photos there to hyper-Technicolor values, even real-color images are remarkable. Conditions after a rainstorm, especially in late afternoon light, are perfect for displaying the rainbow of color this area can show off. The Chinese are promoting tourism to this spot in the north central province of Gansu only half an hour by road from the city of Zhangye, and interest is growing locally and internationally—everyone loves a panoramic spectacle of color.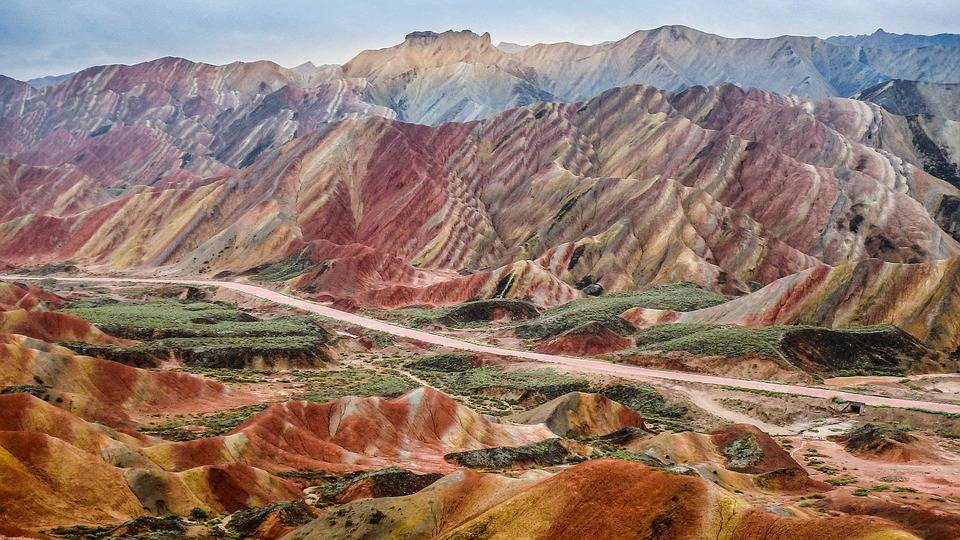 The wild display of Zhangye Danxia National Geologic Park. Some photos of the area look like neon, but these seem to be honest depictions.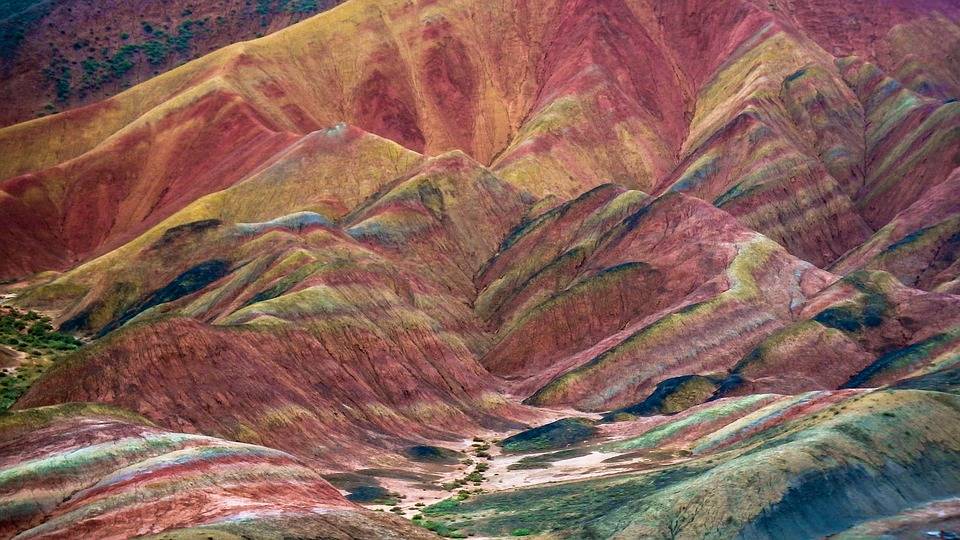 The variety of color at Zhangye Danxia is as impressive as the intensity, which varies with lighting and moisture on the soil.
---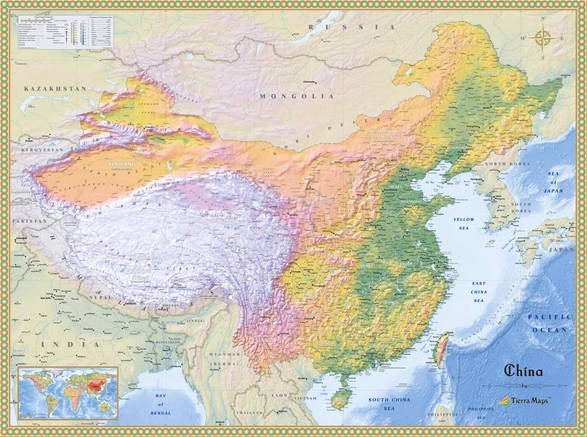 PHOTO CREDITS:
Caption: The Painted Desert is rich in reds.
Source: Wikimedia Commons: W. Bulach: (CC by SA 4.0 International)
Caption: Bryce Canyon's fast-eroding limestone, siltstone, dolomite and mudstone leave otherworldly shapes as they wash away.
Source: Wikimedia Commons: Jean-Christophe BENOIST: (CC by 3.0 Unported)
Caption: The Painted Hills in John Day Fossil Beds National Monument are a rusty red layer cake.
Source: Wikimedia Commons: Roxray: (CC by SA 3.0 Unported)
Caption: The wild display of Zhangye Danxia National Geologic Park. Some photos of the area look like neon, but these seem to be honest depictions.
Source: Wikimedia Commons: eltonjohn1973: (Pixabay)
Caption: The variety of color at Zhangye Danxia is as impressive as the intensity, which varies with lighting and moisture on the soil.
Source: Wikimedia Commons: eltonjohn1973: (Pixabay)