Posted on February 19 2021
Africa has a number of relatively small countries, but one of the smallest is not even all in one piece. You might know its name, or have it confused with one of several other countries that have a similar-sounding name. It's tucked into a corner of Africa and not a place that makes front-page news. Like many other African nations, it gained its independence in the 1960s, in 1968 to be precise. Unlike most of those other countries, it wrested its freedom from Spain. That colonial power called the place Spanish Guinea, but its new name became Equatorial Guinea. The corner it sits in fronts the Gulf of Guinea, at the 90 degree angle of Africa's central western coastline. The country is actually in five pieces if you count all its islands, but the main piece is on the coast just below Cameroon, like a little rectangle carved out of Gabon, which sits to Equatorial Guinea's south and east. That portion is called Rio Muni. The other significant piece is the island of Bioko, about 100 miles to the northwest and 20 miles offshore, in a part of the Gulf of Guinea called the Bight of Biafra. This island is key not only for its size, but as the home of the country's capital, Malabo. Though the equator itself does not pass though any of the country's actual landmass—Rio Muni and Bioko lie between 1 and 4 degrees north latitude, and tiny Annobon Island, or Pagalu, is a degree and a half on the south side of the equator—all parts of the country are close to zero degrees latitude, and plenty warm and humid. Rio Muni has a narrow coastal plain which rises to a well-forested plateau to the east, marked by ranges of hills that rise just above 4,000 feet. The island of Bioko, which is of volcanic origin, boasts the quiet volcano Pico Basilé, most of 9,000 feet high. That island, as well as Annobon, sit on a northeast-trending fault that also produced the volcanic island country of Sao Tome and Principe and the still-active Mt. Cameroon, on the African coast.   
Equatorial Guinea has a coastal lowland and a hilly interior.
The country is one of the smallest in Africa.
Overall, Equatorial Guinea comprises a little less than 11,000 square miles, making it a bit smaller than Maryland. It is the smallest African nation to be part of the United Nations, which it joined in 1968 upon independence. Portuguese explorers came upon Bioko island in 1472, and gave it over to the Spanish about 300 years later, in 1778. Spain had ownership of that island, which they called Fernando Póo, on and off for the next 200 years, at least on paper. In the mid-1800s they explored more territory on the mainland. This tract is what became Rio Muni, after negotiations with the French. This was the era when all of Europe was grabbing chunks of Africa and though the foreign rulers are all gone from Equatorial Guinea now, cultural influences live on—its population of just over one and a quarter million speaks Spanish, French, and Portuguese, along with some native languages. In fact, it is the only African country to have Spanish as one of its official languages.   
Malabo will soon lose its capital status, but its once arcuate harbor, seen here more than a decade ago, has been greatly filled in and transformed into a much higher-capacity port facility.
Long a country that depended upon farming and logging, the discovery of oil reserves in the 1990s brought a welcome new revenue stream. From 2002 to 2011, the country had the fastest economic growth per capita of any nation worldwide. However, this money went largely to the power structure, and the jobs and good wages to foreign laborers with oil industry skills. So Equatorial Guinea is a nation of poor people in a land that has one of the highest per capita incomes. The main cities are pristine and lavishly built, but the majority of Equatoguineans (as the cititzens are called) still work the land to raise enough to simply eat, and three-quarters live below the poverty line. Investment in rural areas is minimal, and things aren't likely to get better there, as people continue to relocate to the cities in search of work. For about ten years after the Spanish released their hold on the country, it had one autocratic ruler who proceeded to lay waste to all the once-functioning governmental and social systems. He was tossed out in 1979 by his nephew, Teodoro Obiang Nguema Mbasogo, who continues to run the place however he sees fit. At this point, he is Africa's longest-serving head of state and spends opulently on himself and his large extended family. Occasional elections are of suspect quality, oil money goes to massive infrastructure projects rather than people's basic needs, and those monies are diminishing as the worldwide oil market goes into long-term decline. In recent years, there has been a push to diversify the economy into fisheries, mining, tourism, and other opportunities. Sadly, human rights violations in Equatorial Guinea, from human trafficking to abuse in prisons has earned the country a very poor ranking on worldwide freedoms lists.    
Road construction headed for the new capital city of Ciudad de la Paz cut through mainland rainforest.
Equatorial Guinea—a gorgeous place with many problems.
But all is not doom and gloom in Equatorial Guinea. While years of logging removed virgin forests, second-growth stands are healthy and support a wide variety of tree species as well as providing habitat for a highly varied fauna. Elephants, gorillas, chimpanzees, hippos, leopards, buffalo, crocodiles and a whole lot of other rainforest animals roam the continental portion of the tiny nation. Animal life there is considered rich, although increased roadbuilding has given access to bushmeat hunters who are a threat to certain populations of animals, including primates. The island of Bioko does not have the large mammals or reptiles found on the mainland, but does have a substantial monkey population, several species of which are endemic, and a host of other animal life. Four species of threatened sea turtles visit the island to nest, and Bioko's animals include some that are miniaturized examples of similar full-sized species found on the mainland. Bird species are numbered at 143, many rare and little studied. Bioko was named as one of the world's first 25 biodiversity hotspots, which led to 40 percent of the island being put under protected status. Unfortunately, the protection for these places has been, as it is with the parks and biological reserves in Rio Muni, unevenly enforced, leading to habitat and biodiversity losses. Bushmeat hunting is as big a threat on Bioko as on the mainland.
The Catedral de Santa Isabel reflects the Spanish Christian heritage of Malabo.
Perhaps things will slow on Bioko as its main city of Malabo, population 297,000, will soon be relinquishing its role as the national capital. The country is building a new city on the mainland, begun as Oyala but now called Ciudad de la Paz. It is deep in the central part of Rio Muni, where it is close to a large airport and two other urban centers, and in a more defensible space. Eventually expected to house 200,000 people, it may siphon population from Bioko, where the government presently employs a substantial percentage of the people. The few travellers and researchers who have experienced Bioko, and Rio Muni as well, describe a land of stunning beauty and natural richness. The country is beset with many sorrowful circumstances but has the economic wherewithal to change things socially and in its natural habitats if it can find the political will to make things better for all.  
---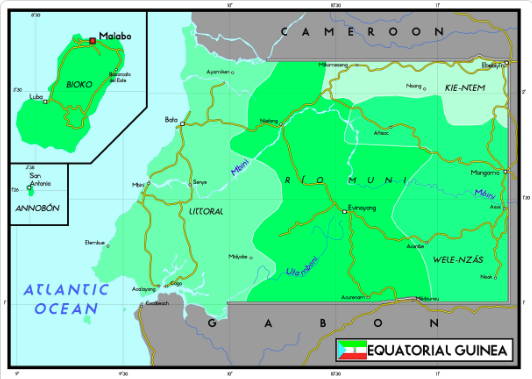 Thinking of adding Equatorial Guinea to your bucket list of travel destinations? Get inspiration from this country wall map! It's available from Maps.com.
---
Photo Credit
caption: Equatorial Guinea has a coastal lowland and a hilly interior.
source: Wikimedia Commons: CIA (Public domain)
caption: The country is one of the smallest in Africa.
source: Wikimedia Commons: TUBS (CC by SA 3.0 Unported)
caption: Malabo will soon lose its capital status, but its once arcuate harbor, seen here more than a decade ago, has been greatly filled in and transformed into a much higher-capacity port facility.
source: Wikimedia Commons: Ipisking (CC by SA 3.0 Unported)
caption: The Catedral de Santa Isabel reflects the Spanish Christian heritage of Malabo.
source: Wikimedia Commons: Denis Barthel (CC by SA 3.0)
caption: Road construction headed for the new capital city of Ciudad de la Paz cut through mainland rainforest.
source: Wikimedia Commons: Mehlauge (CC by SA 3.0 Unported)
caption: Equatorial Guinea—a gorgeous place with many problems.
source: Wikimedia Commons: Bioko Islander (CC by SA 3.0 Unported)