Posted on January 14 2020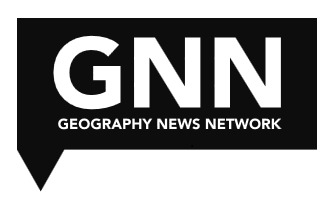 When Martin Luther King Jr. gave his famous I Have a Dream speech at the March on Washing-ton on August 28, 1963, he had no idea that 30 years later an admir-er of his work would also make a groundbreaking performance. This admirer was renowned writ-er Maya Angelou, and she recited her poem "On the Pulse of Morn-ing" at President Bill Clinton's in-augural ceremony in 1993. The messages of both King's and An-gelou's works were quite similar. They both drew upon their ex-periences of growing up African American in a world filled with racial discrimination, in order to write messages of hope for a more equal future.Maya Angelou was born Mar-guerite Johnson in St. Louis, Mis-souri, on April 4, 1928. She later used the name Maya, in honor of a childhood nickname. An-gelou died in 2014 after living a long life marked by many firsts, awards, and traumas. When she was young, Angelou went to live with family in Stamps, Arkansas. It was there, at seven years old, that she suffered abuse at the hands of her mother's boyfriend. When Angelou's uncles learned what had happened, they killed the boyfriend. Angelou felt so personally responsible that she refused to speak and was mute until the age of 12. Her childhood years, including this traumatic event, were covered in great de-tail in Angelou's famous autobiog-raphy, I Know Why the Caged Bird Sings, published in 1969.Angelou went to high school in San Francisco, California, and later attended a trade school for dance and acting. It was then, while still young, that Angelou gave birth to a son. Throughout her adolescence, Angelou was an avid reader of classic authors like William Shakespeare and Edgar Allan Poe, as well as acclaimed African American authors like Langston Hughes and W.E.B. Du Bois.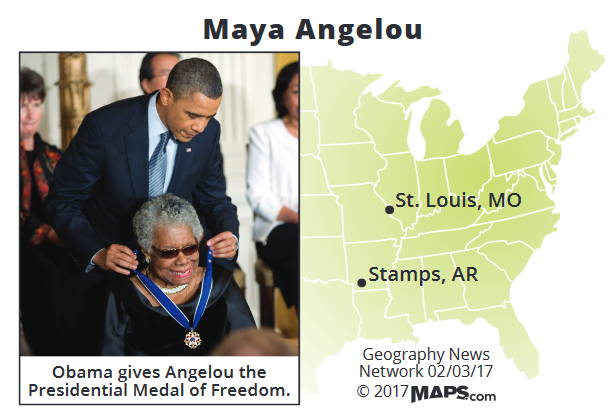 After graduation, Angelou became the first African Ameri-can woman to conduct a street car. She also worked jobs as a cook and as a mechanic. Angelou married a Greek man in 1950. The couple later separated, and An-gelou began working as a singer in nightclubs and as a touring ac-tress in theater productions.In the late 1950s, Angelou joined the Harlem Writers Guild—a group of African American au-thors. It was then that she heard Martin Luther King Jr. speak and became interested in becom-ing involved with the civil rights movement. This work took her and her son first to Egypt and then to Ghana in Africa. At this time, Angelou worked as an edi-tor and freelance writer. When she returned to her home coun-try, influential African American author James Baldwin, who was an acquaintance of Angelou's, en-couraged her to write an autobi-ography. She did, and I Know Why the Caged Bird Sings became per-haps Angelou's most well-known work and was nominated for a National Book Award. Angelou went on to write five more auto-biographies, each featuring a dif-ferent period in her life.Angelou is also widely recog-nized for her poetry. Her work often touches on issues like so-cial justice for African Americans, and women's rights. Angelou's poetry anthology Just Give Me a Cool Drink of Water 'fore I Diiie—published in 1971—deals with the struggles faced by African Ameri-cans, as well as the themes of love and loss. It was nominated for a Pulitzer Prize in 1972. That same year, Angelou became the first African American woman to have a screenplay produced for Geor-gia, Georgia. In 1977, Angelou was nominated for an Emmy award for her role in the television series Roots. Angelou continued to take on more television roles through-out the 1990s. During this same decade, she also branched out into authoring children's books.Because of Angelou's back-ground as both a writer and ac-tress, her poems are considered to be most poignant when she herself recites them. Angelou rec-ognizes this as being in keeping with the traditional African Ameri-can art of the oral story. This is fit-ting, as many of Angelou's works emphasize the beauty and depth of African American culture and people. Her writing continues to resonate today. This is evidenced by her remaining on The New York Times' nonfiction paperback best-sellers list for two consecu-tive years in the mid-nineties—a record amount of time. Also, in 2010, President Barack Obama awarded Maya Angelou the Presi-dential Medal of Freedom. This is the highest civilian honor in the United States. Upon Angelou's death on May 28, 2014, President Obama echoed the sentiment of her long list of accolades, remark-ing that she was "a brilliant writer, a fierce friend, and a truly phe-nomenal woman."

ACTIVITIES AND QUESTIONS
Identifying: Why did African American men and women who faced segregation and prejudice at home join the military to fight during World War II?
Demonstrating Understanding: Based on context clues, what was the role of bomber escorts during World War II?
Differentiating Word Meanings: Which word means to volunteer to join the military? What is the word for those who join the military because they are required to by law? Were those African Americans in the military during World War II volunteers, or were they forced to join by law? Underline the sentence(s) that provide you the clues to answer.
Explaining: How did segregation affect the African American men and women who served in the military in the 1940s?
Identifying: What challenges did these brave men and women face? Why?
Speculating: Did these soldiers help set the stage for the Civil Rights Movement to come a few decades later? If so, how?
Brought to you by Geography News Network. February 3, 2017 #221.
---
This post was brought to you by Maps101.

Maps101.com is a web-based, interactive repository of lesson plans, geography tools, and extension activities to help expand your students' world views. Learn more and receive a free trial today.