Posted on December 18 2019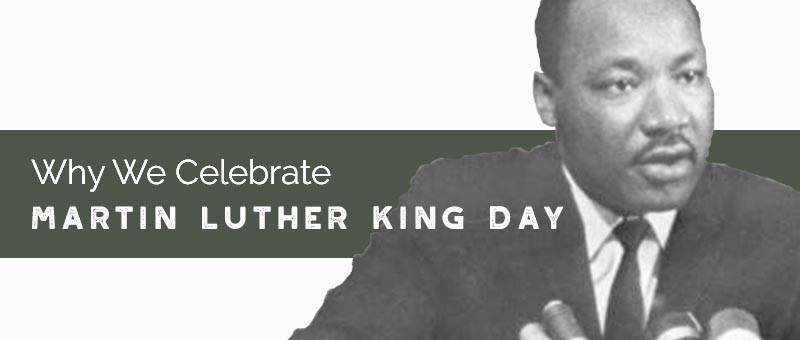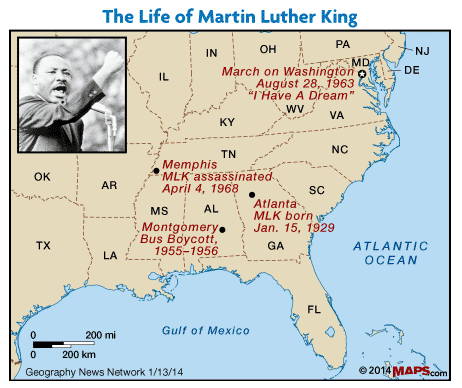 Dr. Martin Luther King Jr. once stated, "A man who won't die for something is not fit to live." Arrested over twenty times, stabbed in the chest, his house firebombed and, ultimately shot and killed, King embodied the idea that equality and the African American Civil Rights Movement were worth dying for. He was a husband and father to four children as persecution and death threats filled his days, yet his example was one of nonviolent, civil disobedience. Had he not been assassinated, King would have celebrated his 85th birthday on January 15th.
He was born in Atlanta, Georgia in 1929 as Michael Luther King Jr. His father, Michael Luther King Sr., worked as a pastor at Ebenezer Baptist Church and, after attending the Baptist World Alliance Congress in Berlin, adopted the name Martin Luther King Sr. in honor of the German Protestant religious leader Martin Luther. In time, Michael Jr. adopted the name.
A bright boy, King skipped two grades in high school, allowing him to start college at age 15. Following in his father's and grandfather's footsteps, he attended Morehouse College, graduating in 1948 with a B.A. in sociology. He enrolled in Crozer Theological Seminary in Pennsylvania, where he was class president of a largely white class. He graduated in 1951 and, with a fellowship he'd been awarded, applied for graduate studies at Boston University. There he met Coretta Scott who was studying at the New England Conservatory of Music where she received a degree in voice and violin. On June 18, 1953, King married Coretta, and they became the parents of Yolanda King, Martin Luther King III, Dexter Scott King, and Bernice King. King expected Coretta to be a housewife and limited her role in the civil rights movement. While women did a tremendous amount of work in the Civil Rights Movement, few received recognition.
By age 25, Martin Luther King became pastor of the Dexter Avenue Baptist Church in Montgomery, Alabama. Both King and Coretta had been active in civil rights organizations in college, and King wanted to end segregation, get the right to vote and labor rights. At that time, the Jim Crow laws legally protected racial segregation that was most pronounced in the South and in industrial cities of the North. By 1955, King was a member of the executive committee of the National Association for the Advancement of Colored People (NAACP), the leading organization of its kind in the nation. Earlier in 1955, a young woman was arrested for refusing to give up her seat to a white man. Because she was pregnant and unmarried, King and others felt they should wait for an instance that would play better with American sympathies.
When Rosa Parks was arrested on December 1, 1955, it was the moment civil rights leaders had been waiting for. King, a great orator, led the Montgomery Bus Boycott, the first of many boycotts and demonstrations that would come to define his legacy. For 382 days, African Americans walked through stifling heat, rain or cold rather than support the buses. Losing 80% of fares, the boycott crippled the transit system. It was during 1956 that many of King's arrests and the firebombing took place. The commitment that African Americans showed is exemplary of the determination necessary for change. Still, the city of Montgomery stood firm until the Supreme Court declared it unconstitutional to require segregation on buses on December 21, 1956.
In January, 1957, King and 60 others recognized the need for a national civil rights organization and created the Southern Christian Leadership Conference. Now a national figure, King became its first president. As a Christian pastor, many of King's speeches centered on Jesus Christ, loving others, turning the other cheek, and praying for your enemies. King was also inspired by Gandhi and traveled to India to meet him. It's estimated that between 1957 and 1968, King traveled roughly six million miles and spoke over twenty-five hundred times. He also penned several books during these years.
King understood that media was an invaluable tool in turning American sentiment, but demonstrations and protests did not always go as King had hoped, and King often found himself criticized by his supporters and his antagonists. More militant groups and individuals, such as Malcolm X thought King too soft. King was not weak though; he sought out confrontations that would highlight the unfairness of Jim Crow laws.
One such confrontation that caught the world's attention took place in Birmingham, Alabama. King invited whole families to take part in the protest. Televised images showed parents and children being fire-hosed and attacked by police dogs. While it did much to get white Americans behind the movement, King was criticized for putting children in harm's way. From his Birmingham cell, King responded, "Nonviolent direct action seeks to create such a crisis and foster such a tension that a community, which has constantly refused to negotiate, is forced to confront the issue."
On August 28, 1963, King participated in the March on Washington and gave his "l Have a Dream" address to over 200,000 people from the steps of the Lincoln Memorial. Given Lincoln's abhorrence of slavery, the spot was chosen to show not only how far the nation had come, but how far it still had to go to make all men equal. In 1963, King was named Man of the Year by Time magazine.
Working with President John F. Kennedy, the Civil Rights Act passed in 1964—the same year King received the Nobel Peace Prize. As a 35-year-old man, King was the youngest to receive that honor. The $54,123 prize money he donated to the civil rights movement.
By 1968, King was worn thin from constant protests, criticisms, arrests, and death threats. He'd been labeled a radical since the March on Washington, and the FBI watched his every move, including his alleged affairs. His critical stance on the Vietnam War only worsened his standing with the government. Still, when he was asked to lead a march for striking garbage workers in Memphis, Tennessee, he agreed. On the evening of April 4, 1968, while standing on the balcony of his motel room in Memphis, Tennessee, he was assassinated. Riots broke out across the country and, as with Kennedy's assassination, many felt it was a conspiracy.
King's tireless work for African Americans and the poor is a legacy that lives on. In 1983, President Ronald Reagan signed a bill to create a holiday in King's honor. On January 20, 1986, Martin Luther King Jr. Day was observed for the first time. He is the only American to have this honor. On August 28, 2011 (48 years after the March on Washington), the Martin Luther King Memorial was dedicated on the National Mall. Countless streets and building bearing his name remind us that change does not come easily, but with perseverance, it does come.