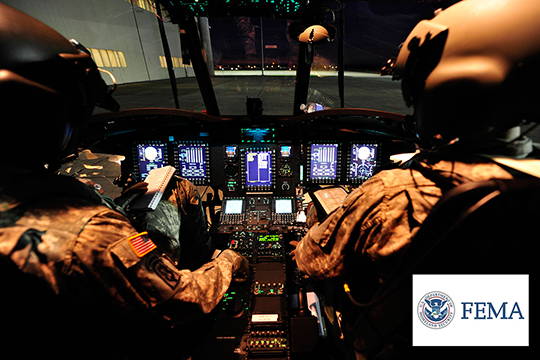 Helping to map a more prepared nation
FEMA's mission is to support citizens and first responders to ensure that as a nation we work together to build, sustain and improve our capability to prepare for, protect against, respond to, recover from, and mitigate all hazards.
Challenge
As of 2014, FEMA had 14,844 employees across the country – at their headquarters, ten regional offices, National Emergency Training Center, Center for Domestic Preparedness/Noble Training Center, and other locations. FEMA's challenge is to always be prepared to manage any crisis, anywhere, at any time. This means they need to have important information in an easily accessible form to be able to give them an instant perspective of any area.
Solution
Three main aspects of this map were important to FEMA. One, they were able to define their own custom key points of interest that were specifically designed for emergency preparedness – for example, the locations of hospitals, schools, and border checkpoints. Two, the map was designed specifically to provide relevant disaster information no matter where a crisis occurs. Finally, a key component of this map is that it is available for FEMA to reference at any time, even without power.
Result
The result was a collection of 22 different individual maps for the state of Texas. Each of these maps is a beautiful 4-foot by 4-foot wall map that clearly displays a range of relevant information: cities, towns, county lines, hospitals, major highways, state highways, major bodies of water, major airports, schools, fire departments, ambulance staging areas, and many other points of interest. This large format makes it very easy to see all of the important services that can be utilized in a state of emergency.